The Ancient Secret Under Shri was an early PCG by Xaq. The game follows directly after the events of the Pierre Series, and sets up the situation for the Squids in Forests Series. It was also the first modern game starring Ari.
Story and Situation
Edit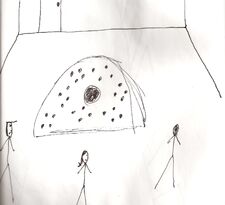 Continuing where 'The ALIEN Abduction' left off, this game begins with Ari and Pierre exploring the surface of the planet Shri after having been shot down by aliens. As they go torward the looming city, Ari notices something and falls into an underground labyrinth, becoming separated from Pierre. From here, he must try to find a way out, while learning about Shri's history.
The Character
Edit
Ari, the slim and somehow squidlike agent of Zoovac has finally rescued his sister and escaped alien grasp, but he still regards the world with that damn scowl. With his twin guns, he'll have to navigate the underground labyrinth and find a way out.
Chanai Du Ðux was a poor Zorelta man, imprisoned by the Crodin regieme in the underground labyrinth. Once Ari rescued him, he worked with Ari to find a way out.
Cassie, fresh from her adventure in "When EVIL Flows in Freeness", had just fallen into a hamper in the underground labyrinth when Ari walked in and found her. From then on, the two began to work together.
The Fat Guy, having been dropped through the floor of The House by Cassie, fell into the underground labyrinth. He feared there would be little food and no one whose path he could obstruct. Needless to say, when he heard Ari coming, he silently rejoiced.
The evil Crodin Empire that controls the world is an ever-present threat, looming on the horizon.
Ari and Cassie escape through a hatch at the top of the Labyrinth. Where will it lead? Their explorations on Shri wouldn't continue until "Squids in Forests".
Getting back to the storyline presented in the first three games, this game takes place in an underground labyrinth, in which Ari must manipulate all sorts of ancient, yet advanced, machinery in order to progress. The puzzles are good, yet complicated, and there's an emphasis on backstory.